Wedding Tents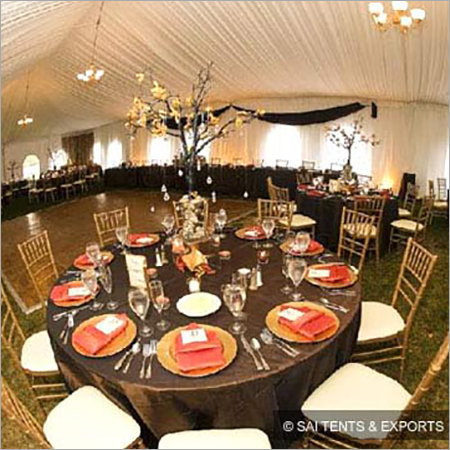 Wedding Tents
Product Description
Wedding Tents
Wedding Tents we offer are exclusively made so as to render an ambiance that absolutely suits the demands of essential occasions such as wedding. Configured to present a perfect setting, these highly stylish tents are aesthetically adorned with new designs developing with each passing year as per the alteration in tastes of fashion. With more and more people selecting these rich canvas settings for celebrating the occasion of wedding, the tantalizing wide open spaces of these luxuriously designed as well as decorated tents proffer complete flexibility to the planned wedding. Wedding Tents we deal in serve as the beauteous alternatives to traditional wedding tents as well as modern wedding tents. These watertight and wind- defiant products are highly artistic & aesthetically charming.
Benefits :
Sturdy structure as well as leak proof fabric
Progressive designs that push out moisture accumulated in the interiors
Resistant against water, wind and fire
Equally spaced doors as well as windows for fantastic ventilation & light
As beautiful alternative to traditional wedding tents, these modern wedding tents offer best value as these are -

Sturdy finished
Long lasting
Watertight
Wind- defiant
Artistic & aesthetically pleasing
Easy to set up
Affordable
With the right range of wedding tents holding power to make turn an occasion into a remarkable event, we ensure these are available in plenty of options depending on -
The budget
Style needs
Size of wedding
Wedding tents offered are mainly divided into following:
Push pole wedding tent - These are of most familiar traditional wedding tents where ceiling inclines downward from tall center poles to assortment of shorter pole sets.

Frame wedding tent - These are also known as free-standing wedding tents and are supported by self supporting aluminum/steel frame. As these tents have no internal poles, the area under tent is free to set up tables, chairs and dance floors.

Tension wedding tent - These tents have high center poles and come with perpendicularly inclined ceiling and more openness inside.

Dome shaped wedding tent - These dome shaped wedding tents come with provision of dividing interiors into rooms and carry more volume than flat-sided tents. The dome shape also makes these wedding tents more heat efficient.

The strengths of our wedding tents include:
Strong structure and leak proof fabric
Innovative designs that push out moisture built in the interiors
Resistant against wind, fire and water
Evenly spaced doors and windows for superior ventilation and light
Easy to set up
Product details
| | |
| --- | --- |
| Pattern | Printed |
| Size | Any |
| Capacity | Greater than 10 |
| Material | Polyester |